I watched the dub, and on reflection, I would have enjoyed it more with the sound turned off. I thought, with a famous cast they might bother to match the voice with the words to sound right but clearly not. They thought, I know let's make it all art and no substance, just add a load of 'cool' things together that usually work and people will love it.
You have a back-story right at the beginning, before you've been given a chance to get to know and sympathise with the characters. So his father dies in front of him. Great. He grows up to be a character with magic hair (that never gets ripped off his head with all those weapons flying around), wearing a magic bandana, the ribbons of which must be magical (or have wire in them) as they fail to obey the laws of gravity and flail in the air all the time. If that isn't bad enough he hardly talks and all we get is gratuitious violence, it's very pretty, but why should I care? He leaves battle with a lame line. "It's not personal it's revenge". Your revenge IS personal! Dumbass.
Having an amazingly cool hip hop background music only works if you use it to generate emotion in the audience in a cool way, this just made me laugh. Don't get me wrong, this does have fantastic fight scenes and gore to die for (literally), but a guy who can cut bullets in half with his sword (?!), and yet he DOESN'T KILL THE MOST ANNOYING SIDEKICK KNOWN TO MAN. There is no possibility that Afro can be cool if this weed (he's even got a stupid name 'ninja ninja') keeps following him around and talking incessant crap. I was happy when Afro told him to shut up.
I'm annoyed and disappointed. I was really hoping this was going to be cool, but it's all style and no substance, even the women aren't pretty, we're given a really wiggly bottom and all I could think of is lol that's soooo shiny! So this is going to be guy who can obviously kick ass, kicking the ass of baddies 6-1 of the evil cult? If he wants to hate anyone he should hate his father for being involved and trying to become number one in the first place…and he should stop smoking (eugh).
The first thing I'd do (which proves how stupid the evil guys are) is get him by the hair and cut off his wrists, because seriously, he's goona get it trapped in a door and meet his end…you know what they said about capes in 'The Incredibles'? Well I recon it's the same with the Afro… no wait, the first thing I'd do, is shoot the sidekick, Afro might be so happy he'd spare my life.
Just because this has flashes of cyberpunk elements such as weird creatures using technology and a robotic hand, doesn't mean it makes it good, if it's not relevant to the story it just looks like they're trying to please the matrix fans. This is utterly predictable. I might have liked it more if Afro had some cool lines, if Okiku was actually pretty and helped him, and if he didn't drink lemonade out of a straw that he carries in his pocket?!?!? That's not cool man, that's so shallow.
I'd rather see what happens with Tokyo Tribes which looks like it has far superior potential, and the art in that isn't half bad either so it's a win-win for me.
Here are the arty pictures that made me happy, completely wasted on this. Beautiful.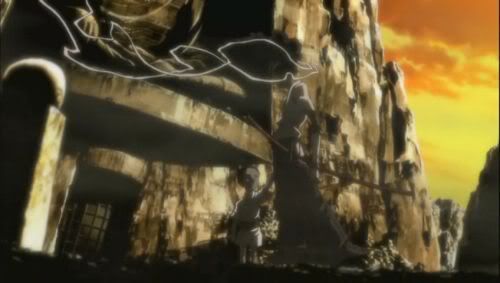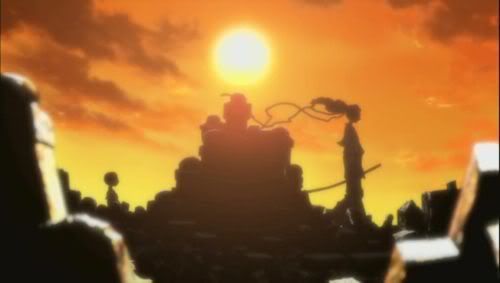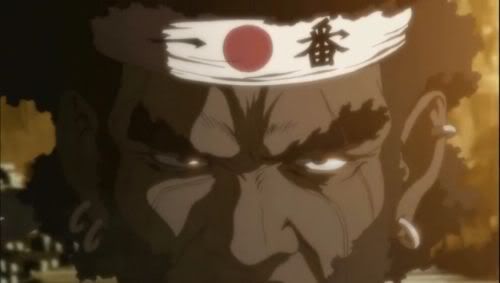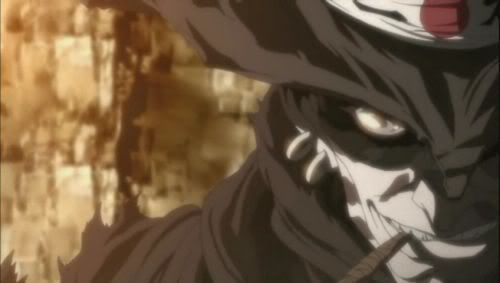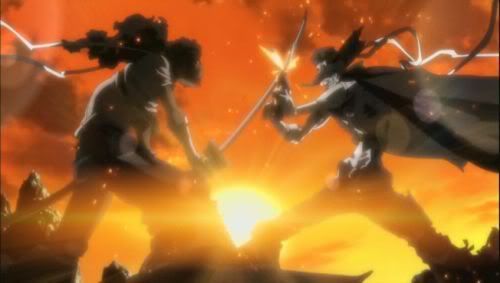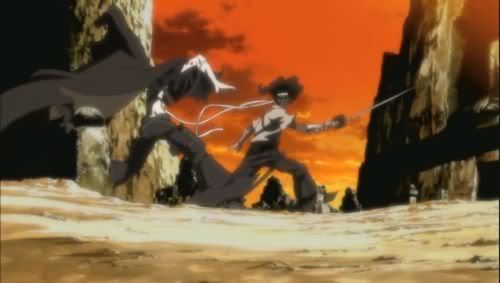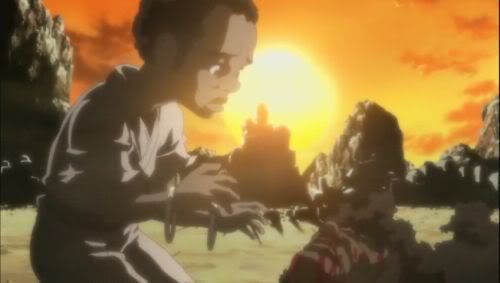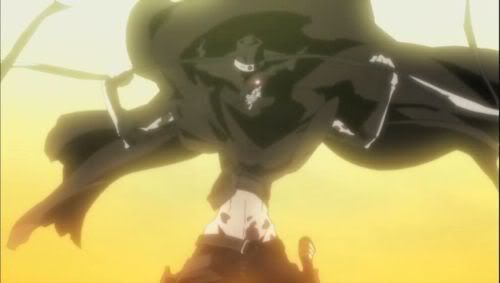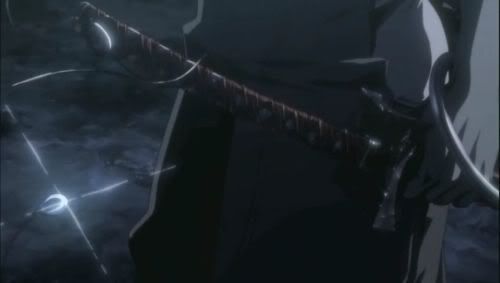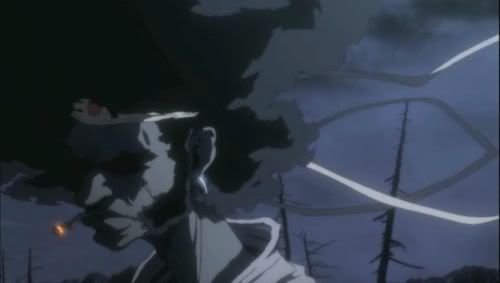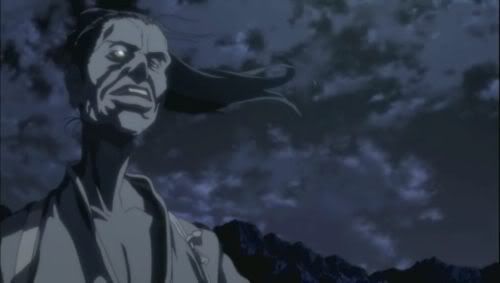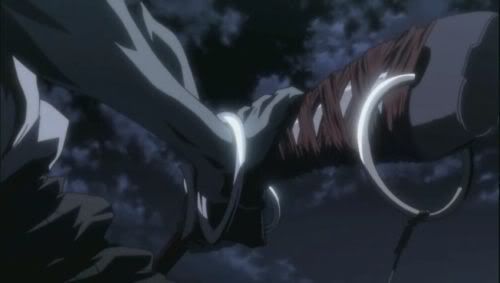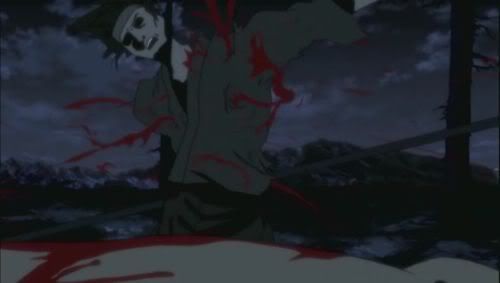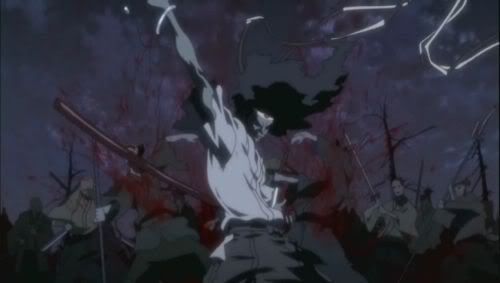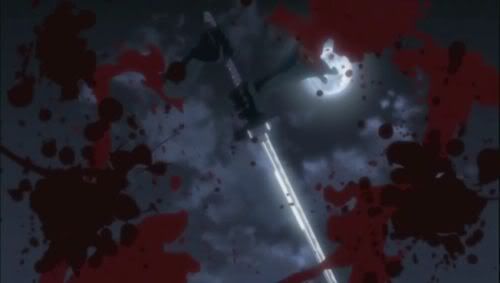 Damn. It's gonna take me ages to brush those knots out.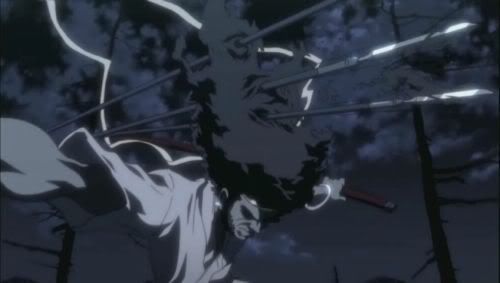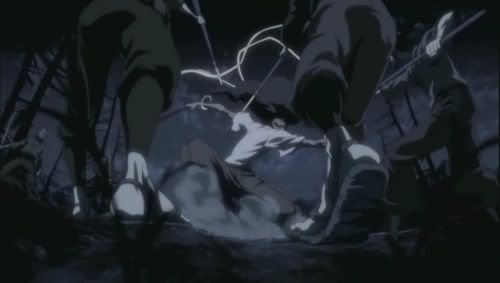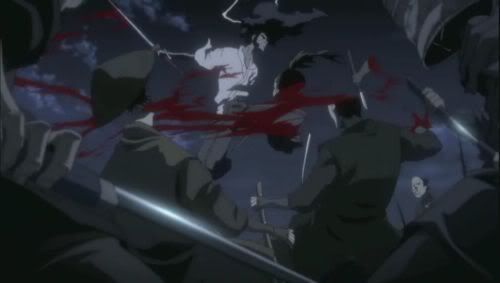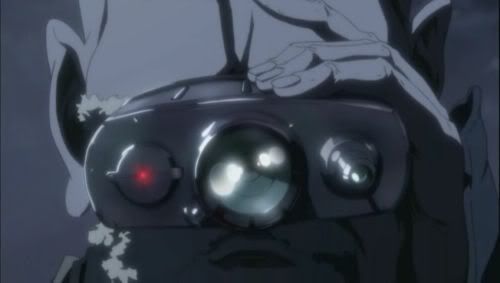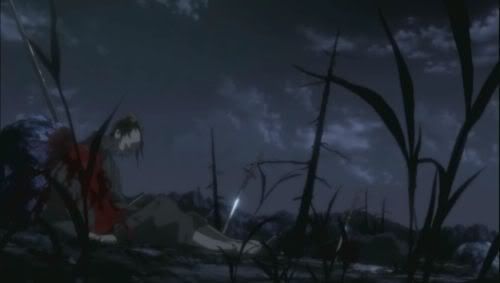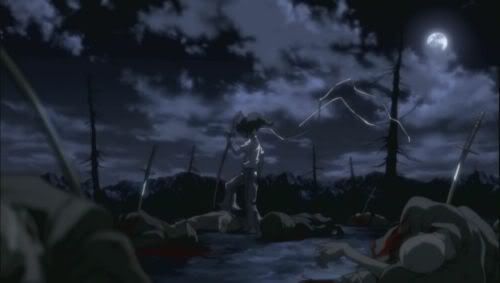 Lemonade?!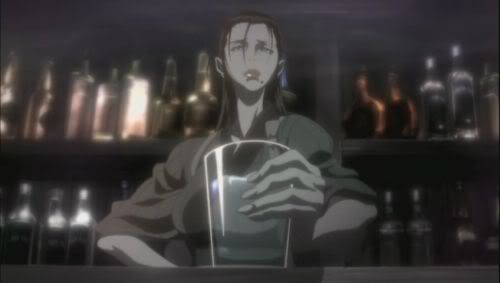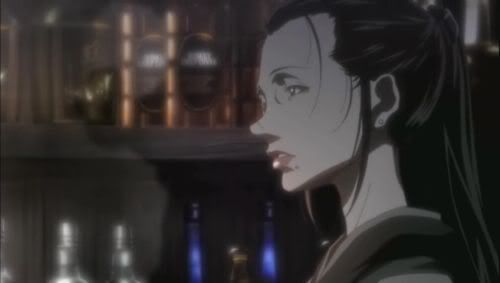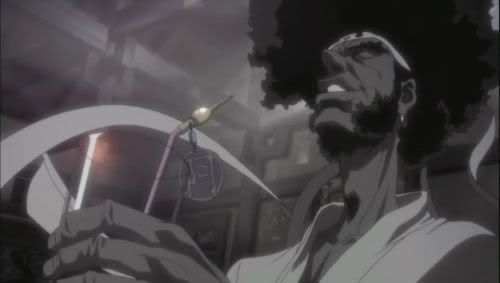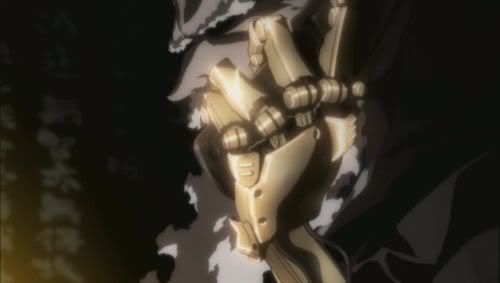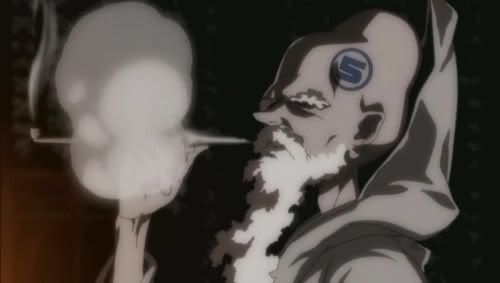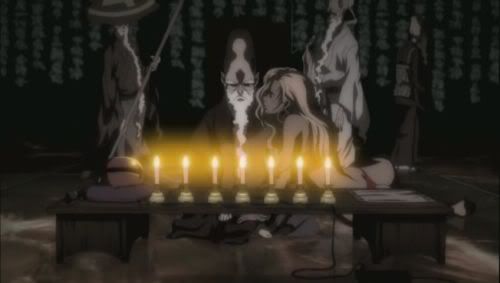 Shiiiiiiiiiiiiiiiiiiiiiiiiiny *_*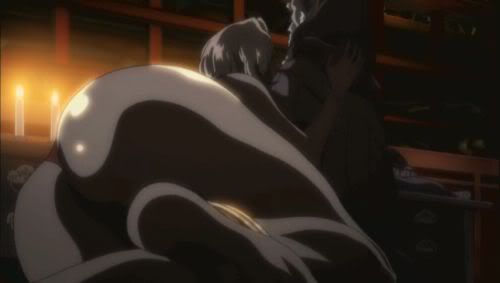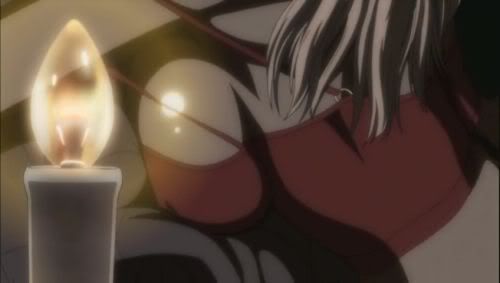 Um…random?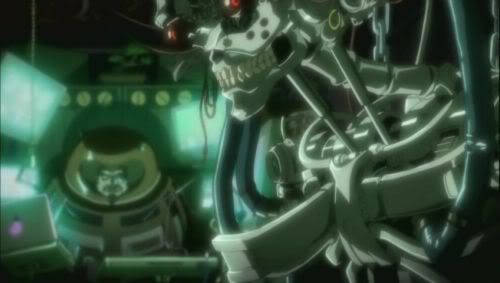 Sponsored by tabacco companies East and West.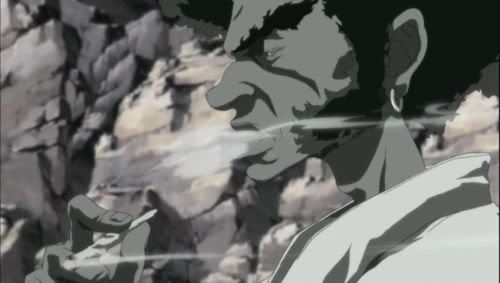 Oh NOW you're really taking the piss.
He'll be fine…his Afro is INVINCIBLE. Maybe it inflates into an airbag…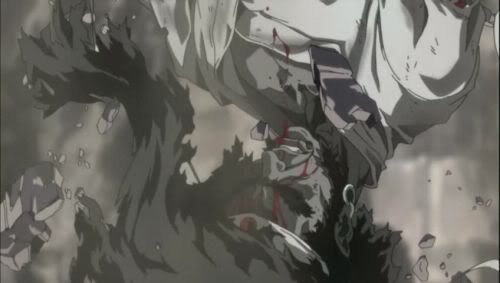 Overall Enjoyment Level: 8/10