This list only includes manga series starting at volume 1.
Demon Sacred Volumes 1-2, 13+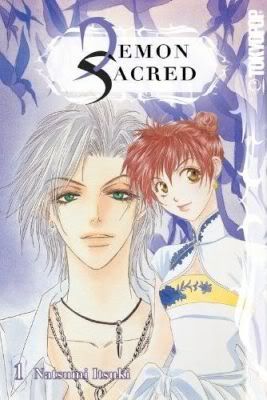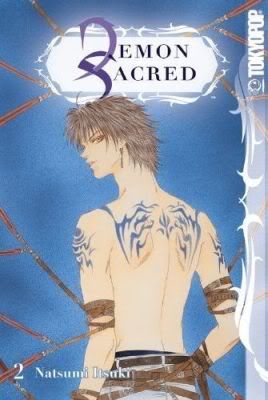 "There is a sickness called Return Syndrome that causes people to physically regress toward infancy until they simply disappear. If someone you loved became afflicted with it, would you give up? No! You'd do anything humanly possible to help them. You'd find a way to get someone inside the leading corporation researching a cure–the same company that seems suspiciously unwilling to share any knowledge it possesses about the sickness, even with its own workers. You might even reach beyond human means to help them. And when the inhuman comes in such gorgeous packaging, it might be hard to resist! Join Mona, K2, Rina, Mika and Shinobu as they fight against the Return Syndrome, dark company secrets, and enemies–both human and inhuman. There may even be a dragonslayer in the mix!"
You can read chapter 1 online. The honeymoon, aurora, unicorns and creepiness is an unusual mix which I liked. It has more of a fantasy than sci-fi feel. The theme of a virus that causes people to grow younger could be interesting, I wonder how well the art shows people changing from old to young.
Neon Genesis Evangelion: Campus Apocalypse Volume 1, 16+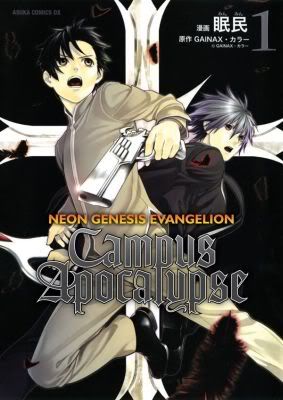 "Shinji Ikari's parents are gone, and he lives with his legal guardian, Ryoji Kaji, while attending the private NERV Academy. But no one ever told Shinji about its secrets . . . or that he'd find his fellow students Kaworu, Rei, and Asuka out on the streets late at night — fighting with sword, spear, and whip against an enemy that looks very human, but who Kaworu insists are beings called the Angels . . ."
The three page preview doesn't give much away. A must have for fans of the anime.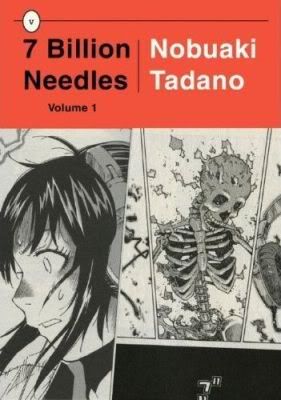 "Hikaru Takabe may not be the most social of teens. Always sporting her headphones, she gives off an aloof aura that rubs her classmates the wrong way. But her not being part of the crowd takes on a different dimension when she becomes involved in an intergalactic game of cat and mouse.
Inspired by Needle, the Golden Age hard sci-fi classic by the late Hal Clement, Nobuaki Tadano's debut work brings a unique take on alien invasion up to date and into the maelstrom that is the Japanese high school girl."
Judging by the number of positive reviews this looks worth a buy, and, as a girl I enjoy reading female focused sci-fi stories.
A Drunken Dream and Other Stories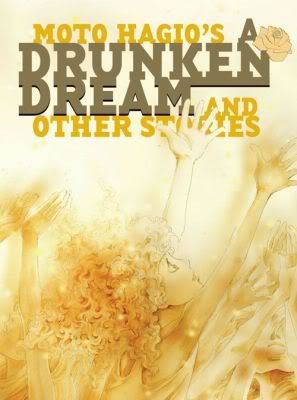 "Forty years ago, the legendary manga artist Moto Hagio reinvented the shōjo (girls' comics) genre with an ongoing series of whip-smart, psychologically complex, and tenderly poetic stories. Here, now, in English for the very first time, as the debut release in Fantagraphics Books' ambitious manga line of graphic novels, are ten of the very best of these tales.
The work in A Drunken Dream and Other Stories spans Hagio's entire career, from 1970's "Bianca" to 2007's "The Willow Tree," and includes the mind-bending, full-color title story; the famously heartbreaking "Iguana Girl"; and the haunting "The Child Who Comes Home" — as well as "Autumn Journey," "Girl on Porch With Puppy," the eerie conjoined-twins shocker "Hanshin: Half-God," "Angel Mimic," and one of the saddest of all romance stories, "Marié, Ten Years Later."
A Drunken Dream and Other Stories is supplemented with a feature-length interview with Hagio, where she discusses her art, her career, and her life with the same combination of wit, candor and warmth that radiates from every panel of her comics."
I had difficultly loading the preview from their website, but it was also on the Amazon page. It includes pages from one of the stories, and the interview with the author. While the collection seems mostly fantasy, I have read from reviews there is at least one science fiction short.