Plot depth? Ha! Shuffle laughs in the face of plot depth, and instead delivers girls, pants, bras, occasional psychotic tendencies and a mind-numbing look at shallow, naive, little girls, who seemingly have no life, and don't understand the meaning of true love.
I didn't like this series enough to write individual posts on each episode, not even brief episode summaries, instead here are the 'hottest' pictures and favourite screenshot memories, in a pretty random order, so if you are a hardcore Shuffle fan, I'm sorry if I have already/am about to offend your love – go cuddle your Shuffle! pillows and get over it. Shuffle is shallow fodder for harem fans, it has only 2 revelations/twists, and only 2 likeable/attractive girls – and one of those is underage *sigh*. Basically, if you like plot satisfaction with your 'romance' look elsewhere. The only love I found genuine in this series was between Primula (a girl not the cheese) and her stuffed neko toys, the only character who would have been worthy of all this harem attention would have been Itsuki, Rin is just a total loser.
Rin: an indecisive embarrassment to mankind, will do anything idiotic to keep girls happy. Tries to have all cake and not even eat any of it…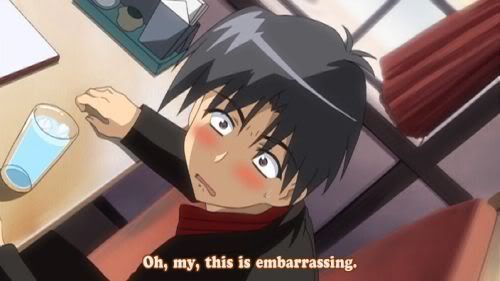 (*MASSIVE SPOILERS AHEAD – for anyone who plans on subjecting themselves to this!)…Rin's character art varies so much, the art is so bad, rarely they made a stab at good emotional art. Very rarely. Rin's face changed as often as those girls' panties.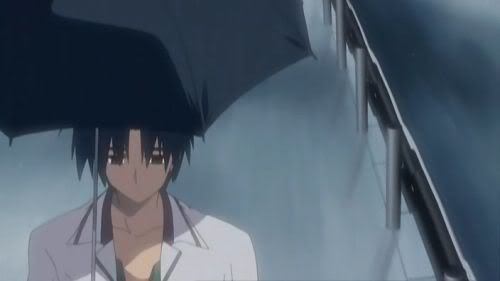 The only meaningful thing he does is attempt suicide to prompt Asa to release her magical powers thus saving her unstable life. How Emo, how romantic. Ruined by the naff blue light effect of Asa's magic release. Lame.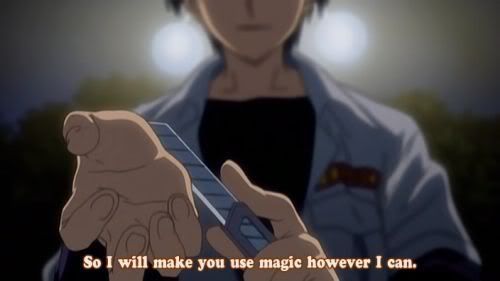 Itsuki: compulsory perverted male character, obviously hardly appears to focus on pathetic Rin. Best remembered for calling Rin a Loli Pedophine.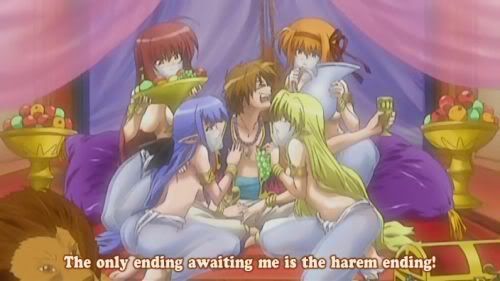 Primula: actually an artificial life form, experimented on so people can try and become immortal. She loves her neko plushies, a lot. Oh, and she doesn't wear a bra for the first half dozen episodes, hence…
Poor Rin. OH THE BLUSHIE-NESS OF IT ALL. *Dies Laughing*.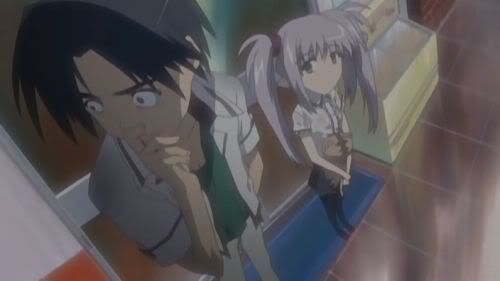 Primula is the only cute thing throughout the series.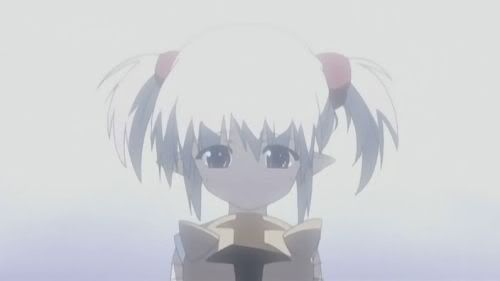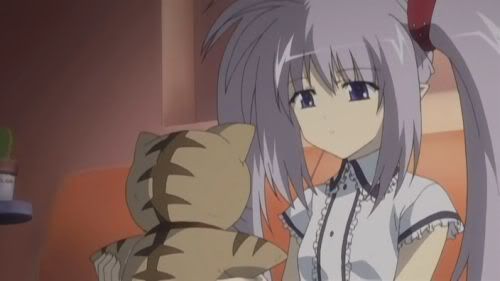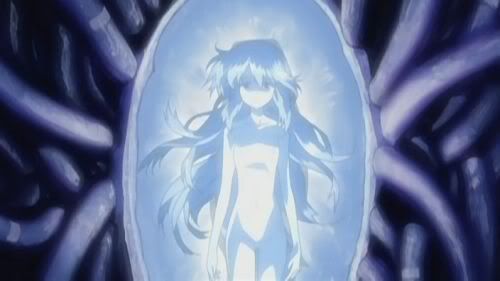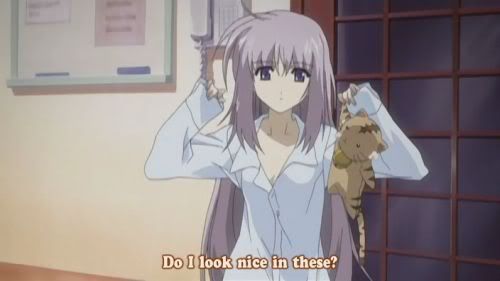 Sexualized by fans…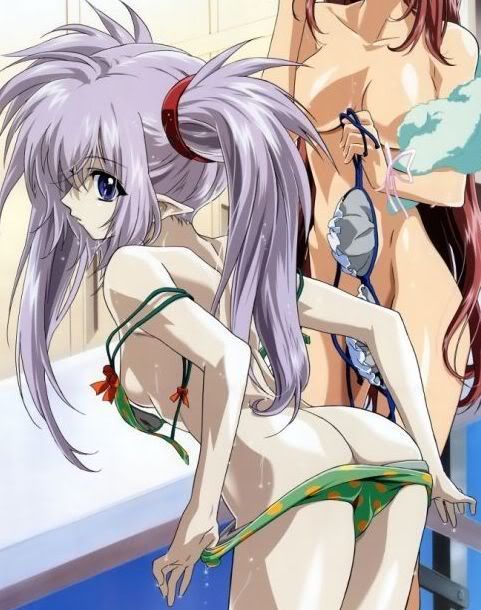 (Yes. I chopped off Sia's head on purpose.)
Sia: double personality, violent bint, one personality is a bit of a ho.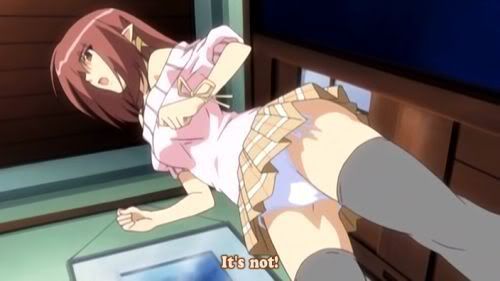 …gets really angry and usually slams Dad over the head with a chair.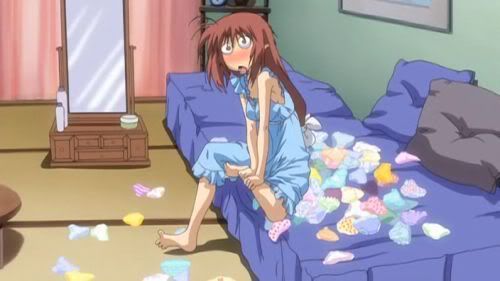 Nice pants though.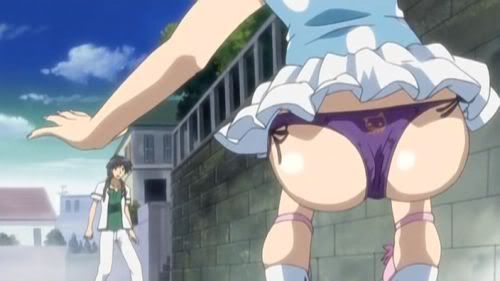 Kaede: Rin's depressive, live in slave, psychotic tendencies, only looks good when depressed, normally ugly.
Don't you dare feel sorry for her, she gets up at 5:30am to cook a man's breakfast everyday for fun! Grr. She suffers from angsty back-story syndrome, *rolls eyes*.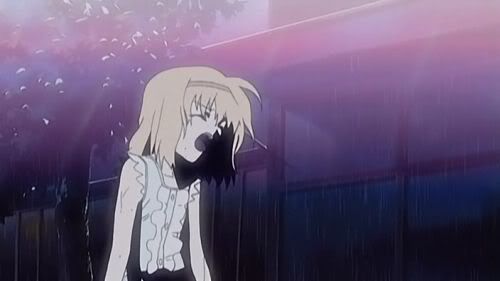 God Fathers (see what I did there?): a moment of realization at the beach, the reason we are never told what the guys do during the day while the girls are at school (apart from play board games), **the little stars say it all… how sweet. ;)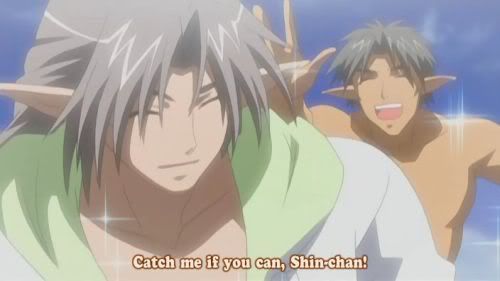 Benibari: suffers from huge boobed teacher affliction, and bad pick-up lines, she has an awesome response to bad pick-up lines though…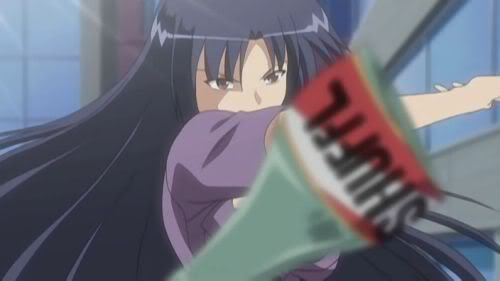 Mayumi: represents all flat-chested girls, compulsory snoop/press character.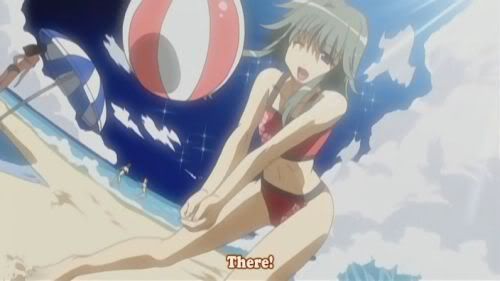 Never undo a guy's flies in a corridor girls, remember that.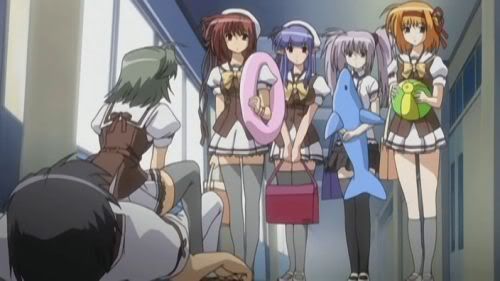 Kareha: best remembered for saying "ma ma ma!!!" and going mooshy/pale and wobbly at the first sign of a nauseating girly crush.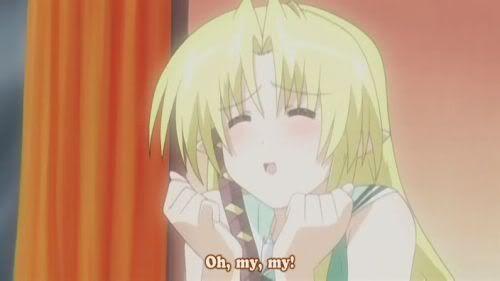 Ama: Asa's mother, those aren't cat ears, and she's rubbish at her role as a mother.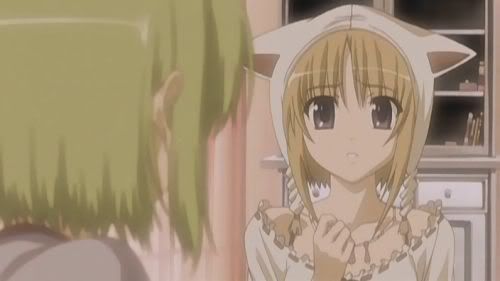 Asa: only attractive (green) eye candy, flirty and energetic. Only sane human of the lot, and it's so OBVIOUS she is going to end up with Rin from like…episode 7, which ruins any plot build up, ugh. Secretly has great magical power.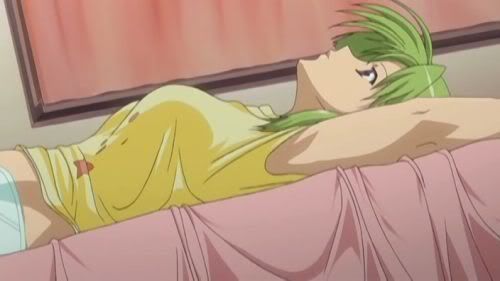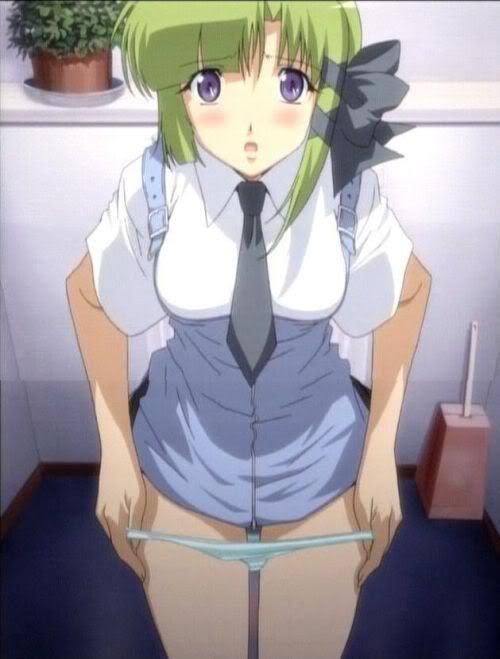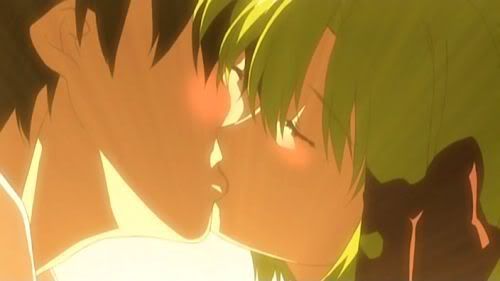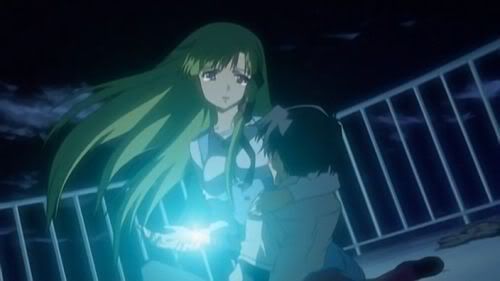 I know I left out Nerine, that's because her character is bloody boring, and considering she has latent magical power, that's impressively bad. Here are some pretty girls to make you feel better.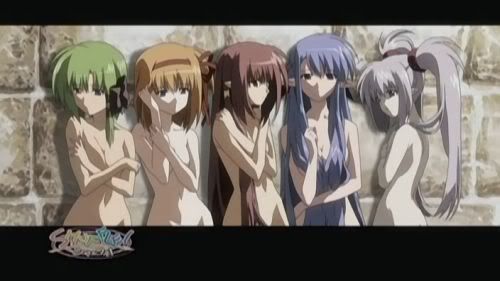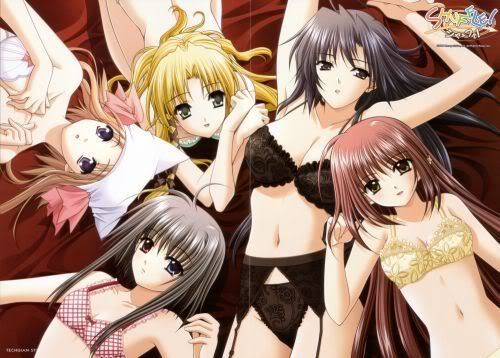 There are lots of figurines for fans of this series but I didn't find any of them attractive enough to post here. At a push, Primula's figurine is the cutest, and the chibi ones are quite cute too.
Overall Enjoyment Level: 3/10
Am I looking forward to Shuffle Memories!?
No.