Tokyopop have added titles to their January release since I wrote the original Hot Picks, and other publishers have released manga this month that I wasn't aware of. The title I am most excited about is…
IC in a Sunflower – Mitsukazu Mihara, 18+ (Tokyopop)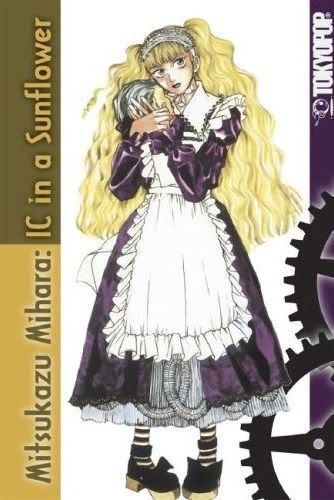 This promises seven stories of 'humanity at once consumed and rescued by it's own desires'. Mitsukazu Mihara (who you might recognise as the creator of Doll) is well known for her characters Gothic-Lolita fashion style, and has included stories about children bereft of sexual desire, a woman spending her life resisting biting and a man getting love advice from a robot maid. IC in a Sunflower has already received 2 rave reviews at IGN.com and Mania Books, and if I had known about it earlier this would have been in my top 3 Hot Picks for January 2007! I read in the IGN review that there is a story about cloned humans who see the outside world…perhaps Mihara had seen 'The Island'? (That was such a disappointing film and it should have been so awesome.) I can't wait to see the artwork in this book, and see how the children with no sexual impulse are portrayed.
ISBN: 1598167693
If you like this try: Beautiful People, Doll.
Hibiki's Magic – Jun Maeda (story) Izumi Rei (art), 13+ (Tokyopop)

My interest in Hibiki's Magic is increased immensely by the cute squirrels on the cover – I want one! This is a story of a magical girl who doesn't seem to have much magical power (but will probably turn out to be super powerful). I've read one of the .Hack manga that Rei illustrated and I liked the artwork. Over at Comic Book Bin they gave hibiki 7/10, so I'm hoping it is a sweet, cute enjoyable read with cute girls. As long as the super-deformed art isn't as prolific as in Hidamari Sketch!
ISBN: 1598167669
If you like this try: .Hack range.
Sound Of My Voice – Youka Nitta, (18+?) (Be Beautiful)
Youka Nitta better known for Embracing Love, writes about guys in the anime voice acting industry. There is a four page preview to give you a peek at the relationships.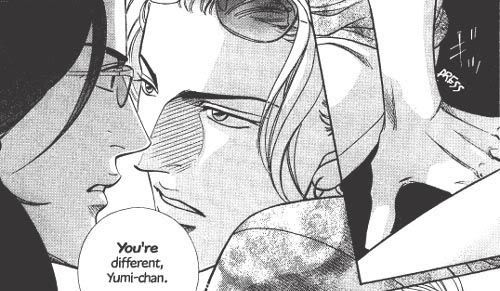 My main issue with boy-boy relationship mangas is that sometimes, the faces look very much the same to me, with distiction through hair style which I find confusing. I know they are impossibly beautiful, but do they have to be impossibly similar? Also, this may not be a 'real' book, as I read it was supposed to be published in July last year and got pushed back?
ISBN: 1933440125
Original Manga Date: 2004
Hamlet – Richard Appignanesi (adaption) Emma Vieceli (art), All (SelfMadeHero)
I find a manga version of Shakespeare to be full of potential, but I become worried when it's set in a different time. This seems to be Hamlet cyberworld (cyberpunk?) in Denmark. Set after an earthquake has divided the world into colonies, I'll remain optimistic but on first impressions the manga seems fairly average. At least they retain Shakespearian style language. See what you think, there is colour art on the website, and larger images on the press kit pdf. This colour image is my favourite: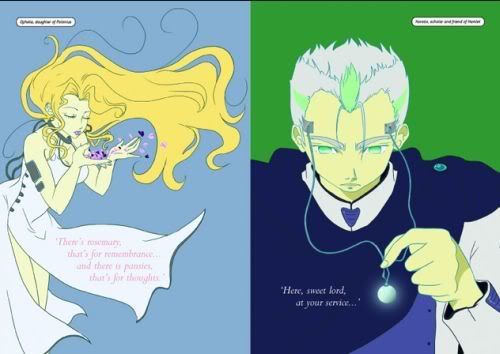 ISBN: 0955285615
If you like this try: Romeo and Juliet (see below)
Romeo and Juliet – Richard Appignanesi (adaption) Sonia Leong (art), All, (SelfMadeHero)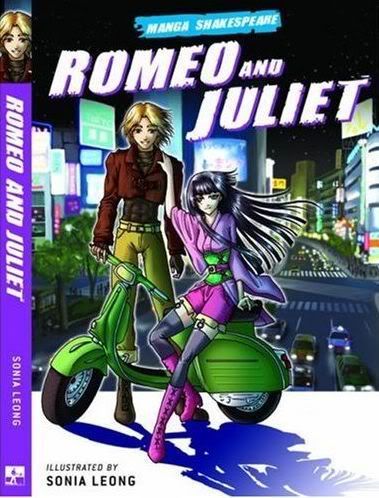 Another adaption, this time set in Tokyo with rival Yakuza families! Romeo's a rockstar! Anything to help kids in school learn more/get enthusiastic about English is good in my eyes – it might have helped me enthuse more about Romeo and Juliet for GCSE (something I found incredibly tedious). Sonia Leong and Emma Vieceli are both part of Sweatdrop Studios and have been published in Tokyopop Rising Stars of Manga UK. Again you can see preview pictures on the webpage, and lager images in the press kit.
ISBN: 0955285607
Misunderstood – Roberta Leigh (writer) Tsukasa Shimeno (art) (Harlequin Books)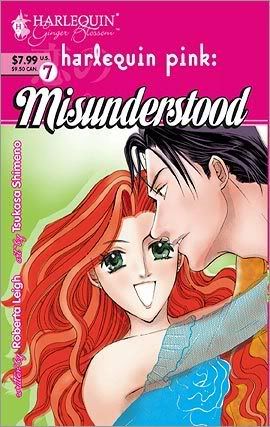 This seems to be a range of romance manga I was completely oblivious to?! Seems like a work related romance, can't make out any more than what I see on the cover and the brief blurb on the website.
ISBN: 0373180059
Heart on Fire – Charlotte Lamb (writer) Yohna (art) (Harlequin Books)
I wonder if all the covers are this similar in composition, and I read they have a pink and violet series of books. The pink ones are presumably aimed at older teen? This is another work related romance I remain in the dark about.
ISBN: 0373180073
Hits & Misses – Realbuzz Studios (Barbour Publishing)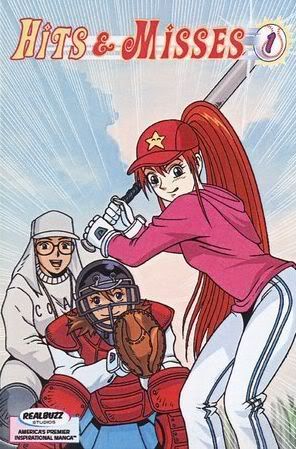 This is from a Christian manga studio who's slogan is…wait for it…'Manga From Heaven'. Only in America. However, don't panic, this isn't a manga about the Bible…(although I think a manga version of at least part of the bible exists somewhere?). Instead, this appears to be safe manga with messages/ideals for children. I thinks it's pretty weird to attach a specific religion to a manga because you will inevitably narrow your target audience that was already small to start with, but the art looks good, and any message to kids to show teamwork with people from other cultures is fine with me! Also great to see a girl's sports team, called the Periwinkle Penguins. How cute!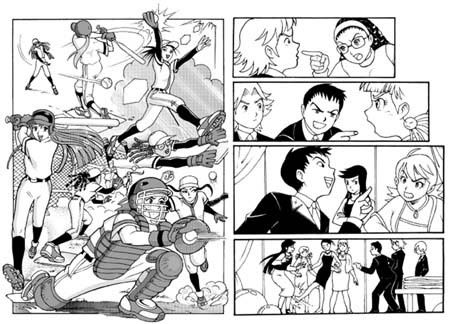 ISBN: 15978956
That's your lot! Hopefully it's the complete list of new stuff now.