Well that was…an erotic-grotesque experience! *O.o*
Not one I'll be repeating soon, after reading this guy had a manga so disturbing none of the printers would touch it (see below), I figured I should check out one of his manga, Hentai Shounen, and, er, if watching someone cut off their nipples, stick pins and candle wick in their penis, and lick girls wee out of a japanese toilet is intriguing to you, then this might be the manga for you! If not you might just enjoy the excellent artwork or seeing something pretty darn weird. Jun Hayami is very talented, just a shame there wasn't a cyberpunk/horror/sci-fi/deep plot story accompanying all the sex/masturbation, to justify it all. Having sex with the shoes and the human leg (that's kept rotting in the cupboard afterwards) was the highlight (?)/most memorable image for me.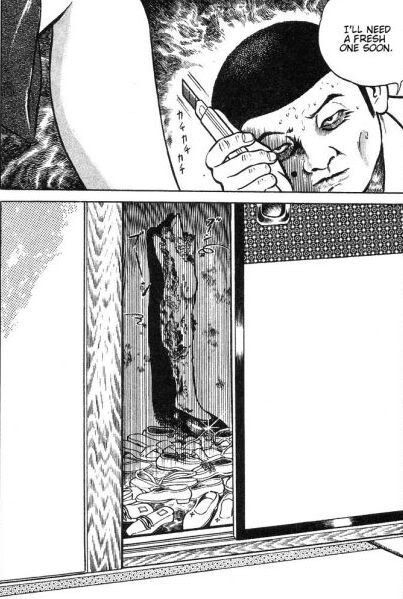 Certainly thought provoking, not the kind of thing I expect Tokyopop or Dark Horse to publish anytime soon! In fact, any time ever! Especially with a chapter called, 'Even though you're just 14'… @[email protected]
For the record I NEVER want to see someone cut off their nipples ever again, that was a special kind of horrible. So I thought I'd share the euuughness of it all to demonstrate just how talented/warped/genius this guy is:
I did feel sympathetic for the character sometimes, he's just so pathetic, all the sexual deeds seem like a compulsive habit. The art composition for the pornographic images was fantastic though, I was impressed with the way he shaped his face and hands onto the underneath of a girl's bicycle seat while imagining her naked bits through her clothes (I would have put up a picture, but er, not sure I want sexual organs on my blog thanks!).
It's nice to see imagination, but to this extent, I ended up laughing, especially when he's imagining standing in the sewer underneath where she's taking a dump. There comes a point when there's a penis in nearly every picture so it becomes about the person and not the penis 'being there, doing things' – does that make sense? I get that he's a nympho and can't really enjoy connection to women without pain, and it's horribly wonderful to see the result. I found myself feeling especially sorry for the character when he resorts to dressing in girl's pants and roleplaying both parts of the sexual act to reach a climax, then trying to stick his penis in his anus? Is that possible, no, wait, I don't actually want to know the answer to that, eugh. If you think that's the grossest thing ever then clearly you've never seen anyone orgasm from sticking a toothpick in their penis. @[email protected] **The Horror.**
I've written enough about that, I don't particularly want to think about it any longer! How do I rate my enjoyment level of something so disgustingly, fascinatingly disturbing? Well it was a pretty engrossing read, and there are many images that will stick in my mind, and it got me thinking about human detachment and self destruction, so, overall, 8.5/10.
If you're intrigued by arty, disturbing sexual manga then you might want to purchase Beauty Labyrinth of Razors (18+).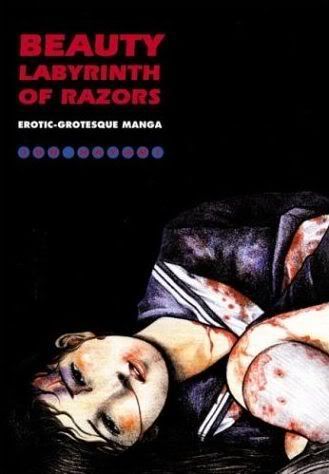 It will give you twelve, uncensored, sexually violent stories of innocent girls and perverted acts. You can view mini preview pictures of Beauty Labyrinth of Razors on Creation's webpage. The real thing costs $20. If anyone reads it, let me know just how disturbing you think it is!