*NSFW*
Previewable manga which are supposed to be published during July 2006, in order of how enjoyable a read I hope they will be!
The release dates are in July as far as I know, however, they don't seem to match the online bookshop dates, some of which are in August. :'(
[N.B. The prices for the top 10 manga are the cheapest I could find them for the UK. I usually go for amazon.co.uk/amazon.com because of the free postage/shipping over £15/$25.]
1, Old Boy – Garon Tsuchiya (18+)

What can I say?! Its Old Boy! The manga which inspired the amazing film of the same name (and if you haven't seen it by now where have you been?!). It's not exactly the same as the film, which means it's not totally predictable. If anything I prefer the attitude of the main character in the manga, anyway, it's just great to be wondering what it must have felt like to have been locked up for 10 years – and not know why! I've read the first few volumes and it's a fantastic read, I'll be interested to see how Dark Horse have translated it/ cleaned up the artwork.
You would love this if: you like a dark psychological thriller with plenty of violence and a little sex.
Preview: 4 pages. (It's not much but gives you a little taste of the art style)
Buy: £5.80 (although it seems the release date has been pushed to august?)
2, Museum Of Terror – Junji Ito (16+)

A girl who mysteriously attracts loads of people, ends up getting killed, then returns from the dead. She is reincarnated over and over again! This was turned into a whole series of films about 'Tomie'. I've not seen any of them yet, but I *loved* Junji Ito's Uzumaki (Spiral) manga/film and can highly recommend his horror artwork/stories!
You would like this if: you want a schoolgirl horror with stylish artwork – secretly you know there are really evil girls out there, drawing you in…
Preview: 4 pages. (Well it was enough to get me hooked! 'She's not coming back…' Mwahahahahaaa)
Website about Junji Ito: here.
Buy: £5.80
3, The Kurosagi Corpse Delivery Service – Eiji Ohtsuka (writer) Housui Yamazaki (art) (18+)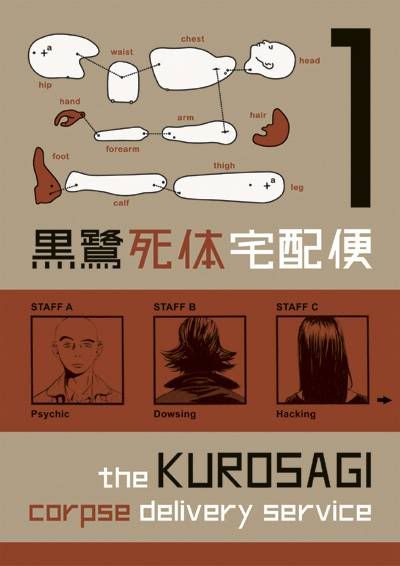 Initially I was put off by the main character design, but once I saw the other characters and the horror element this has the potential to be an amazing read. A group of students assist the souls of the dead in a new way. The cute litle embalmer Makino, the dowser Numata, the channeler talking to his alien puppet, the artwork…this is so imaginative! I'm just wondering, how do they get paid…I mean, the dead are, well, dead!
You'll love this if you: always wanted to see dead people, and like a weird manga with an unusual collection of main characters.
Preview: 12 pages (that creepy puppet is like a frog cheerleader!)
Buy: £5.35
4, My Cat Loki – Bettina Kurkoski (13+)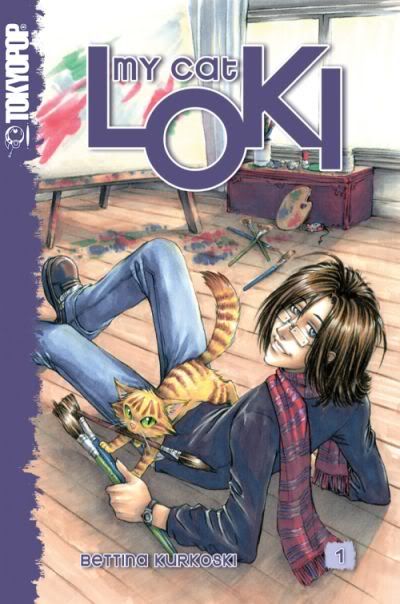 An artist who never really got over his cat Luka dying because he saw him as his brother, finds a lost kitty Loki under a park bench. I love this! Don't judge this by the cover, the artwork is superb, the characteristics of the cat have been caught so well (if you're a cat lover you'll know what I mean). All the animal characters start off as animals, then morph into their human form – which fits their animal personalities excellently. Lots of cat classics like trying to give him a bath and take him to the vet, the best part is that Ameya the artist is completely clueless about everything around him, including Ms Chacha! Never thought I'd rave so much about a book about a cat, but it really is worth a look. Kawai!


You'll love this if: you are a cat lover, adore kawai things or like boys with cute cat ears.
Bettina Kurkoski: interview.
Artist Forum: Dreamworldstudio Forum.
Preview: 3 chapters (you need to register for a free Tokyopop account to read more than half a dozen or so pages)
Buy: £4.88
5, Chugworth Academy – Dave Cheung (16+)
This is one of those funny, sarcastic looks at life through the eyes of some teenagers, and an armadirro (Pringles) – well I get that impression from the online comic strip. This is why I think this is funny (sorry if you don't share my sense of humour!) :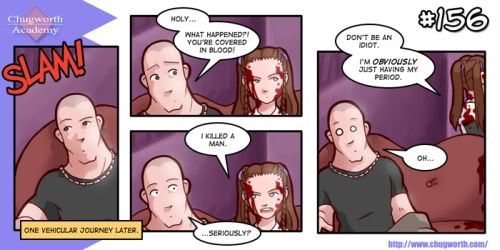 None of these pictures are in the manga – so I guess technically this isn't a preview – but if you can't decide whether you like it after 300+ webstrips, *heavens above*!
Did I mention the women were sexy? Oh? …no, and, er…that's so not the reason it's so high up on the list..um…anyway…wooooo cute ladiiiiiies!: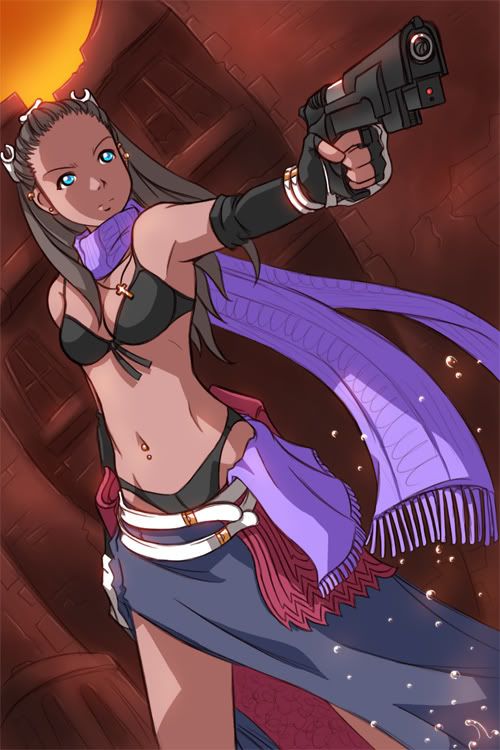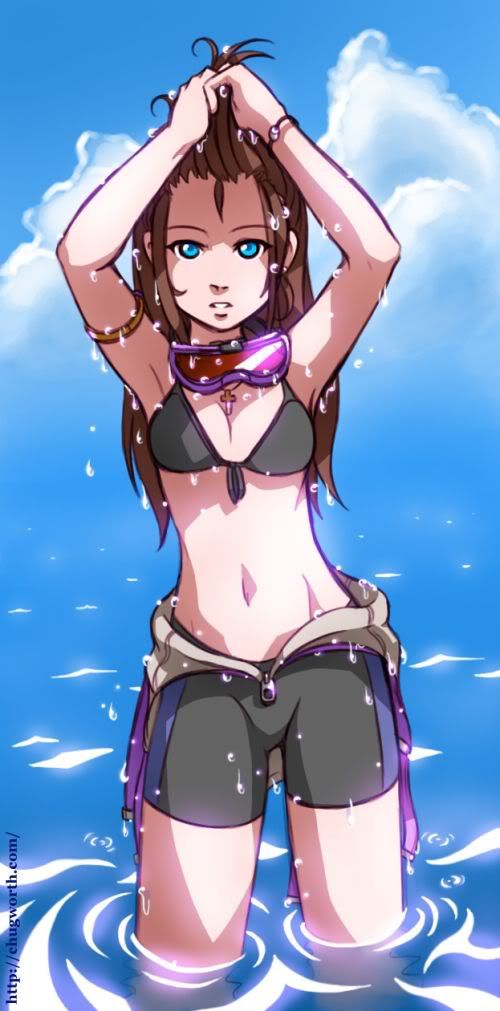 You'll love this if you: love all those angsty school toons like Daria and Undergrads, sense of humour required…
The only drawback is it doesn't seem very manga influenced – that would be because Dave doesn't really read manga. But hey nevermind, it's potentially a cool book to dip into.
Dave Cheung – interview (he seems fairly, uh, unique) book info and deviantart.
Preview: 334 strips.
Buy: £5.85
6, Riding Shotgun – Nate Bowden (writer) Tracy Yardley (art) (16+)
Although the artwork is stylish, and an country where assassination is legal is a great idea – it's been done before and it's been done waaaaay better in the vengeance legalisation in Freesia. As if I couldn't get past that issue, the girl in it is dumb, big bust and wide hips, she's really unattractive for a 'hot chic co-star' especially when she talks to her Mum (do we need to see that? *Yawns*). On top of that you've got a hero who can't fight and has a crisis of conscience – not cool, just get the hell on with it. they swear all the time, and it's not that I'm against srearing just when it's shit, fucking relevent ok? Not all the time! So if you want to read a book about 2 dumb assassins, who can pick their victims of a list (hmm Black Cat anyone?) in the lone saloon, with a load of cliched extra characters, go ahead – so why is this so high up on my list? Well it reflects the fact that most people are shallow and will go 'Woo Assassins' and love this, also the story ideas/explosions are cool and the artwork of Doyle is great, so credit goes to Tracy for that.
You'll love this if you: put your brain away for a little while and enjoy the killing action and laugh at the cliches.
Then feel disappointed and wait for them to publish the amazingness which is 'Freesia' in English…Dark Horse should so pick this up!
Preview: 3 chapters.
Buy: £4.88
7, Enchanter – Izumi Kawachi (16+)
This seems like a potentially funny fantasy about a boy who is twin with a demon – who needs a new body! The schoolboy crush on his science teacher is amusing, and the girl Eukanaria is pretty, it's got all the right fantasy-comedy-romance ingredients, love it when she drops through the ceiling…I wonder if the story's any good.
You'll love this if: you're after a boy/girl fantasy comedy.
Preview: here (It doesn't work for me in firefox, had to use I.E.)
Buy: exclusive to Borders, not sure about price.
8, Stallion – Kosen (18+)
In case you hadn't guessed – this is yaoi. There are only 3 preview pages, and the character artwork I found off the net, however, for a yaoi it looks very pretty and, um, pert, and more interesting than the masses of romancy yaoi stuff I've seen around! *Rolls eyes*.
Interesting…page process: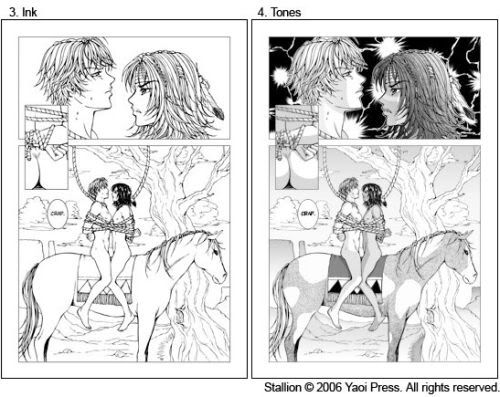 Character art: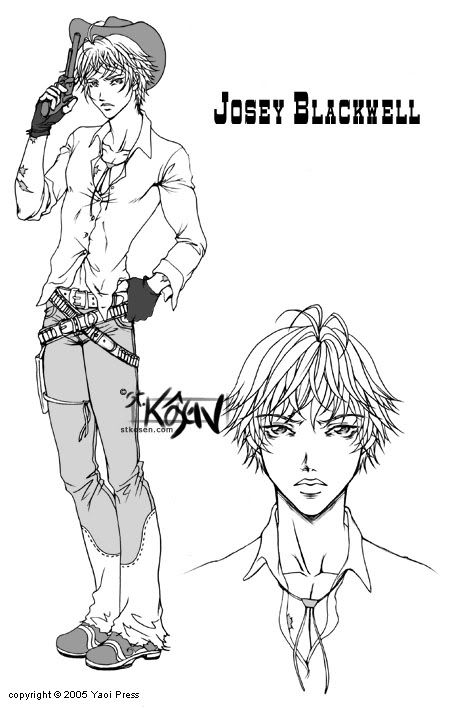 You'll love this if you: love the idea of cowboys getting it on…oh and did I mention a free sheet of stickers! *Good God – is this a selling point?* …giggles. Do I actually want to buy it to see what the stickers are…
Kosen: artwork. (pretty – art from Saihoshi not Stallion!)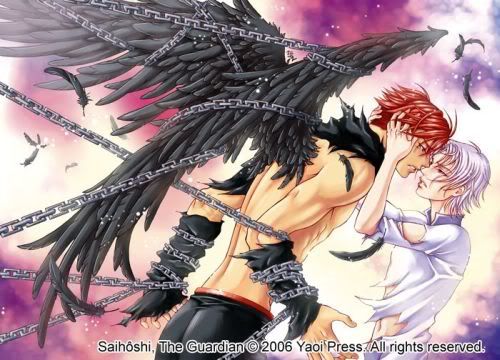 Preview: 3 pages.
Buy: £6.09
9, Ravenskull – Christpher Vogler (writer) Elmer Damaso (art) (Teen)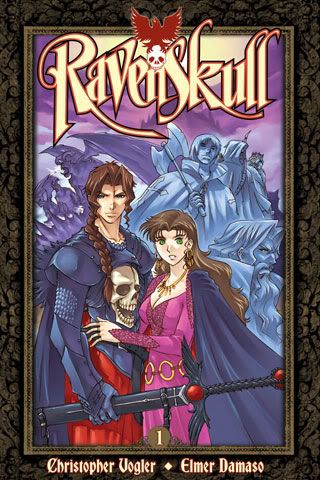 I initially dismissed this as 'one of those' ye olde Knight fantasies – but when I read the 73 pages which are set prior to the first volume I quickly became pulled into the world of knights, one-sided love oh…and coming back from the world of the dead! I was left wanting to know what happens next – which is always a good sign. Once you get past the first 15 or so pages the story does pick up, so does the art…
You'll love this if you: wanted to know more about the knights in The Holy Grail (if only this was as funny as Monty Python). If secretly you're tired of Robin Hood and know that knights are all powerful, and always get the girl – even if they are thrown apart by clouds of fire when they try to touch…
Ravenskull: website and artist/writer interview.
Preview: story prior to volume one.
Buy: £4.60.
10, Kat and Mouse – Alex de Campi (writer) Frederica Manfredi (artist) (All)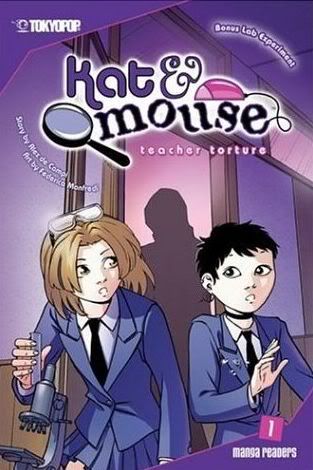 About a girl starting at her new school, a story with believable relationships, the obligatory bitchy girl characters, and the one girl who'll be her friend. this is supposed to turn into a CSI for school kids, they have to use math and science… this is for a younger audience, yet it's still a good read for what it is. The main advantage this has over other school storylines are two memorable main chracters and a likeable/believable level of communication/relationship between them.
Maybe something for a younger sister to read, or if you were the intelligent cool geek at school and want to relax your brain for a while. :)
Alex de Campi: interview,and blog.
Preview: 2 chapters.
Buy: £3.25
11, The Recipe For Gertrude – Nari Kusakawa
A demon made up of human parts must search for the recipe which created him so no more can be created of his kind. I really didn't find this inspiring because of the artwork, the evil demons seem like ragdoll snowmen with wool hair, and they want their ears back ?! Not keen on the art of the main character either. However, this could turn into an enjoyable fantasy-demon-romance story.
Preview: here.
12, Fools Gold – Amy Reeder Hadley (13+)
A school girl, who loves sewing, turns her hatred of boy 'jerks' into an anti-jerk club disguised as a 'geology club'. Those jerks are like pyrites…uh…right…becuase girls in relationships would take you seriously if you suddenly point out all their boyfriends are complete idiots. It's funny that the girls throw arrows at doll versions of the boys, but the relationship between all the female characters and the dialogue is so weak, plus the girls clothes are horrid! You might love this if you are a girly girl – but it's not for me. The bitchy girl never really does anything that bad, the human anatomy is interestingly proportioned sometimes and there were some spoken lines in there that made me cringe.
Preview: 3 chapters.
Amy Hadley: LJ, deviantart.
13, Mail Order Ninja – Joshua Elder (writer) Erich Owen (art) (10+)
Starts off fantastic, as ninjas jump around – then the storyline begins with the little boy and the artwork plummets as far as I was concerned. This is def aimed at 10-14 year old boys not me. If you're a ninja nut you might like this though!
Preview: chapter 1.
Interview with: Joshua, Erich.
14, Zapt – Shannon Denton (co-writer) Keith Giffen (co-writer) Armand Villavert Jr (art)
Another one for younger boys – this one has a fight with a robot at the beginning. Supposed to have a wider range of characters and adventures later on.
Shannon Denton: interview.
Preview: chapter 1.
15, Narration of Love at 17 – Kyungok Kang
A girly romance which bored me, the artwork is particularly unappealing. The boy she loves is too dense to notice her, aaaaaaaaw.
Preview: chapter one.
Another post to follow on potentially cool non-previewable manga out this month. (Lots of artwork, expectations and judging books by their covers!)