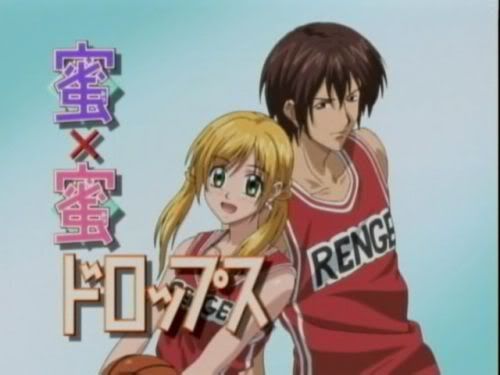 This is the first episode of an OAV based on the Manga (there is also a PS2 game).
A honey is the term given to the girl who must serve her male student partner at school. The advantage of being a Honey is that your tuition fees are paid. Hagino Yuruzu is chosen as one of these honeys by a guy named Renge Kai. However this anime just seems to be an excuse to see women being walked all over by guys who can't decide whether to be jerks or heros. One minute you think Kai is really nice because he doesn't make Yuruzu strip naked for a painting, the next thing he's groping her on a basketball court, calling her a useless toy and making her cry. Aside from that you've got the Honeyless Master Yurioka Chihaya who's taken a liking to Yuruzu – but he's equally useless as he fails to save her when she falls over on the basketball court. Nice.
The idea is quite fun, Master/Honey pairs must play basketball and the Honey of the overall losing pair will be fired. Yuruzu doesn't want this because her parents will lose money, but should she stay with Kai or abandon him for the equally bad Chihaya.
Highlights include an armadillo disguised as a basketball. No wait, that is the highlight! Overall, this annoyed me because I can't feel happy about Kai turning out to have feelings for her after he treats her like crap, and she doesn't know what she wants anyway. Are these supposed to be perfectly formed male characters you just love to hate but secretly love them? Ugh, I have no idea!
Kai looking…hot?
The intro credits, have lots of characters and are quite pretty.
I shall look at you naked in the shower if I want to!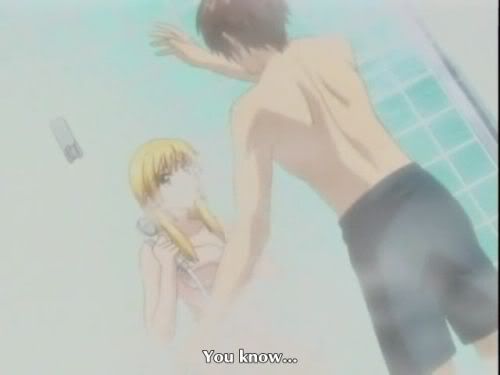 I can do cute and vacant at the same time…
Armadilloooooo!
Admittedly the Love me Kiss me 'French Kiss' end tune by Misaki Fuji+ was quite cute and catchy!
Honey x Honey Drops website.
Initial Rating: C-
Next episode…she ends up kissing Chihaya *shock*.