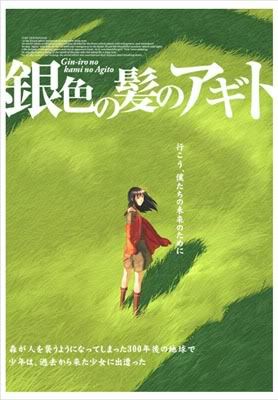 An experiment on the moon with plant genetics leads to monster plants ripping apart the moon and firing down to infect the forests of the Earth. Agito lives in the future in Neutral, a crumbling city powered by wind generators, trying to coexist with the dangerous forest. He awakens a girl from the past named Tula, who he finds sleeping in a pod hidden deep beneath the city. The Zulide (forest inhabitants) demand the girl is handed over, they believe she will bring fire and destruction.
Beyond Neutral city lies Laguna the military country. They don't want to coexist with the forest they see it as a threat to be destroyed. Shunack is another human who had awoken from the past now living in the military country. He convinces Tula to join him so they can use her necklace to activate machinery called 'Isudoko'. This was designed by her late father to set things right, destroying the mutant forests and restoring the Earth to the way it used to be.
Agito is horrified by her choice, he doesn't see anything wrong with the world in which they live, so goes into the forest to become an 'intensified human' in order to gain the strength to follow Tula and convince her to come back to Neutral city.
…and then the plot falls to pieces, Agito does a lot of running around shouting 'Tuuuulaaaa' and inevitably *spoiler* the forest isn't as evil as everyone thinks it is, and Tula manages to stop the giant walking volcano (yes that's right, entirely believable) from destroying the world.
I have so many issues with this film it's difficult to know where to start.
The Zulide forest people are such a minor feature in the film, you're not given an explanation of their motives for letting the humans have access to water or not. They just like banging their sticks on the ground a lot, while little forest girls predict the future. If going into the forest to become an intensified human gives you so much power, why don't all humans do so? Aaah I see – it's dangerous, you might become a tree…no wait, if you become a tree, it'll give birth to you again…so…what's the problem exactly? Surely by the end of the film the humans should be running into the forest to embrace their fate and become a new species…rather than planting a flower. *sigh* If Agito was reborn again from his tree, then why wasn't his father?
The technology is totally uninspiring, we see the two boys Agito and Cain going on a salvage hunt under the city, yet we don't get to see enough of what they see. Surely with all these salvage operations, and the market with the people from Laguna they'd have a little more than a peasant-like existance? They use buckets to get water from hundreds of metres below the city…hang on a minute…the Laguna people have pumps…why don't they trade something useful and improve their quality of life?!
The military base seems to be a tiny smoking cluster of red chimneys producing loads of black smoke. How convenient that it produces so much smoke that the 'factory' doesn't have to be drawn in much detail.
The three children/teenagers discover a girl from the past, but rather than asking loads of questions about her world like normal children, they are only interested in a minor love triangle that never gets developed. Minka is an incredibly naive irritating and pointless character, who never gets harmed by the Laguna people she trusts so much to teach the children watching this film a lesson. Let's trust everyone kids. Why didn't they just kidnap Tula, instead of the pathetic confrontation in the bright lights. I was waiting for her to get bundled into one of those big jars so they could steal her and get the necklace!
Yolda, Agito and Shulack as intensified humans look faar to similar. The character art feels so lazy:
Yolda: Neutral representative.
Agito once he has been 'intensified'.
Shunack.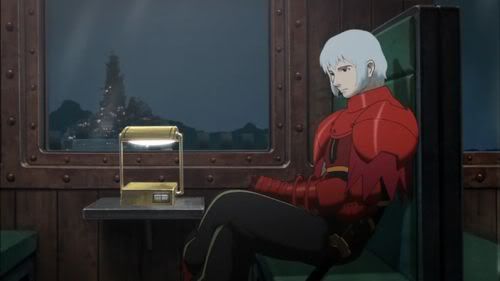 Agito looked much better before he became an intensified human…better dress sense too.
It may be pretty at times, but after the initial pretty blue lights and purple hair glow on Tula, her normal appearance becomes quite dull, and she's so stupid! She doesn't mind destroying some of the world to set things right, but when the volcano heads straight for Neutral 'oh no, that's bad'. Baka…
…and the cosy conversation between Tula and Agito inside the exploding volcano? I mean HELLO, run away! Not to mention the pointless half naked tree girls who really have no role whatsoever except maybe for bored adults taking their children to see this ridiculous nonsense.
If Doctor Sakura left a simulated message, surely there would have been some individual message for his daughter activated by her collar? All the elements which could have been there, to make this a potentially interesting watch were missing!
The rest of the art looks like it's taken from other anime films, there are no cute memorable animals, in fact humans seem to be the only creatures alive! The cities are so uninspiring it must have taken then 10 minutes to think them up (apart from the fallen town house, that's imaginative). The fades last for a second too long and seem pretty pointless.
Also, while I appreciate lots of people enjoy the KOKIA music, it really didn't give me any goosebumps or improve the let down feeling I was left with after watching this film. The background music didn't always seem to fit the action either, nor was it very effective.
I'm really disappointed, mostly because at the end of the film, I wished they had destroyed the world and returned to normal. What's so special about the forest people with swirling dragon vines that try to kill you? I wish Agito had died with that tree so at least it could have been a romantic sacrifice to save his planet. This film really needed a clearer differentiation between good and evil. Even the military people don't want to world to be completely restored using the Isudoku! Just Shunack who *spoiler* is responsible for the genetic mess up on the moon (I mean, come on, couldn't he at least have shed one tear)?
I hope I don't need to rant this much when Brave Story is released! This might be a fun film for your younger siblings, but you're really not missing out.
Here are some pretty pictures, to prove it's not all that bad:
Dragon plants fly towards earth from the moon.
Pretty machine where Tula is found:
Tula pictures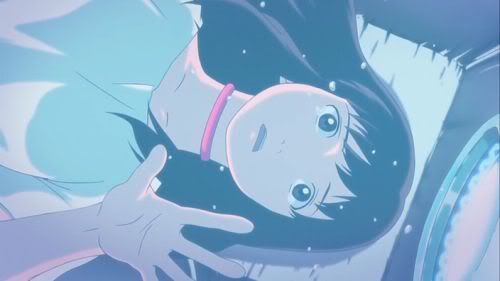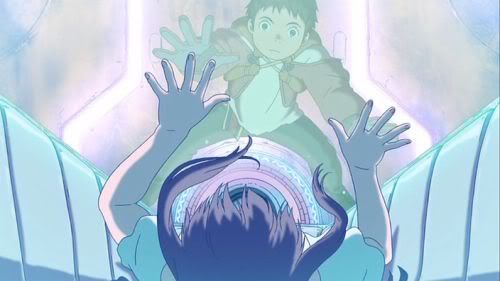 Tula in normal light, with the annoying Minka (left).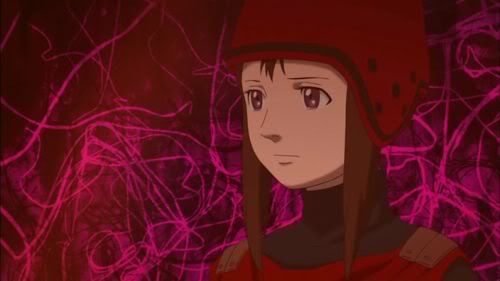 Pretty tree spirits, of which we're given a glimpse and no explanation.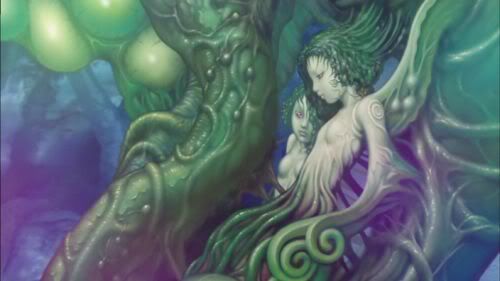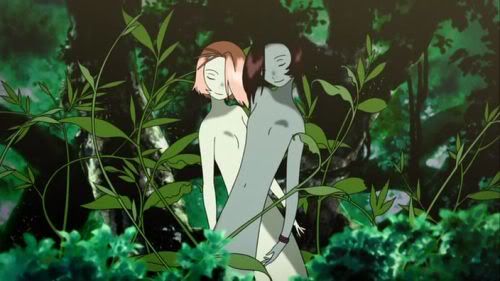 The place humans go to be 'intensified'.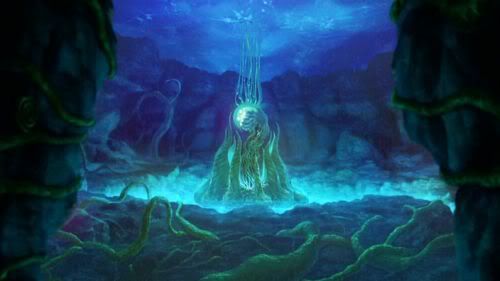 Scenery.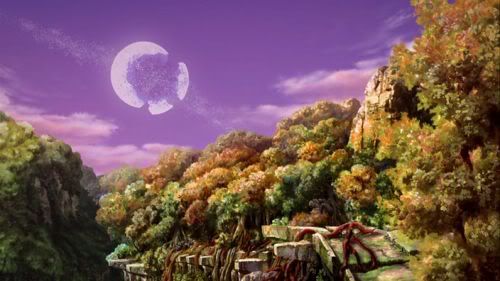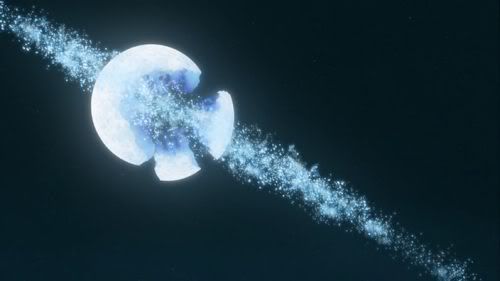 Inside the volcano.
The rebirth of Agito.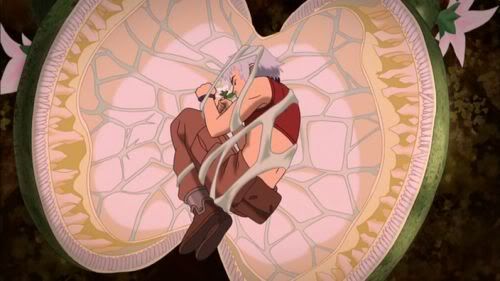 Rating: D (GONZO, you can do better!)