Plagiarism…the latest manga scandal:
A guy claimed that Tokyopop's 'Dojo Dynasty' plagiarised his work. Read about it on forums here and here. Apologies have been made, it seems to have been sorted out (shame I wanted and online slanging match, entertainment woo). Everyone has to be influenced from somewhere…just not too much!
Mangalish? Pah! – Kodan Club:
Just click on 'manga preview' for 48 japanese manga previews with english pop up bubbles (it only works for me using internet explorer).
Runaway to Mangaland:
Those french girls must have been related to the kids who ran away to the sewers to find the Teenage Mutant Ninja Turtles. I used to daydream about running away to live in the mountains, but hey I was 7 and those mountains were a long way away! They should invent 'Manga Land' where people can get paid to cosplay, I'd run away there for a few weeks with a camera!
Worst Yaoi Title:
'The Man Who Doesn't Take Off his Clothes': well I guess the manga spents 90% of the time trying to convince him otherwise…and giving him a bath..?!
Icarus 'erotic' Publishing:
One for the guys I think, I was looking at all the manga publishing websites for previews and came across the erotic manga publishers Icarus. If you haven't already heard of them… enjoy!
Wirepop:
'Tokyopop High' looks ok for free, and you can pay for new English manga, if you really want to: Wirepop.
Vibrating Plushies:
Cute Dust Sprite! For the record…LMAO. It'd sit so nicely with my vibrating bunny from Wallace and Gromit. I wonder how many vibrating soft toys there are in the world? Everything should have a string that you pull and something interesting happens, like those pop up books with little tabs.
Promoting manga maid stylee:
All manga should be promoted in this way damnit!
Aokubi Daikon…only in Japan: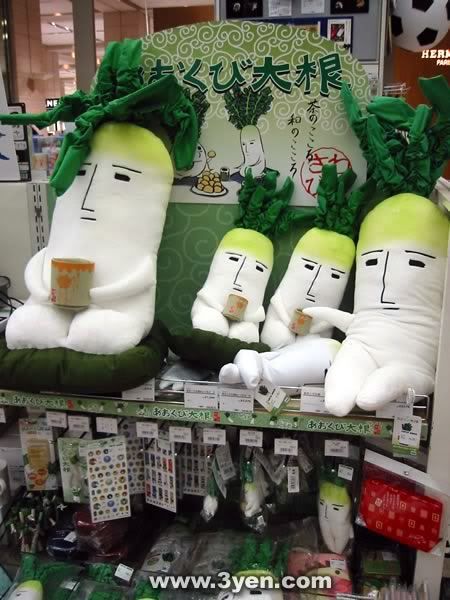 Intrigued? Go to the website, giant radishes have never been this cool! There's even a radish flash animation (unfortunately in Japanese)!
Animated radishes…well nothing can beat that!