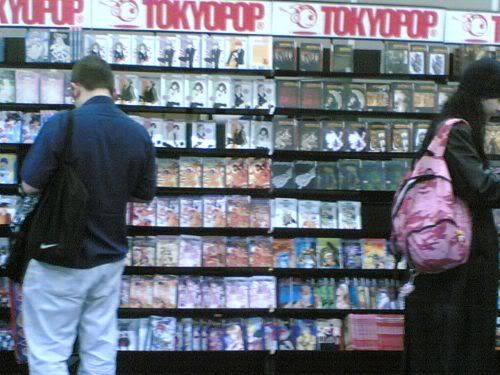 Tokyopop were selling books at 1 for £6 and more than one for £5 each…but they only had the mainstream titles. Resisted Temptation to buy all the 'Priest' manga I don't own.
Yummy sweets on the TokyoToys stall. I bought a momo the flying squirrel keyring here [samurai champloo], it was the last one, they had to climb up and cut it down!
There was a huge Broken Saints Display, advertising the online animation's development to dvd.
This caught me eye, I'm not into dolls but these are pretty and gothy.
If only I had £4000 to spare. *Desires*
It's amazing how enthusiastic comic book artists are when asked to pose by a girl cosplaying in a mai hime school uniform (I'll post some pictures up of that too soon). I thought this guy was really talented. But I forgot to ask his name (how stupid do I feel now).
Some of the above guy's artwork.
There were so many pretty, shiny weapons everywhere I think I must have had a fixed grin!

This is the necklace I bought, I've been looking for something like this for a while, It's from celtic mythology, said to bestow the wearer second sight which I thought was fun.
Things I also wanted to buy but couldn't afford:
Ghost In The Shell Box Set.
Serial Experiments Lain Art Book. (It was about £46!)
Samurai Champloo bag.
Signed David Mack artwork (he wrote the Kabuki comics)
Serenity Comics (but they were priced up to £8!)
Overall, I really enjoyed the Expo, and think it's worth £7.50 for the experience, and the offers on anime and manga, as long as you are going to spend upwards of £15. I can't wait for the next London Expo in October! I'd like to cosplay as Real/Lir from Ergo Proxy.