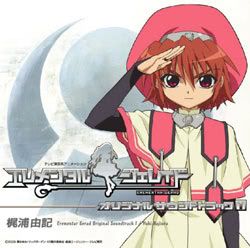 Erementar Gerad OST has 35 tracks.
It starts off sounding like Kajiura Yuki is trying to do happy/military and doesn't quite get it right, so skip the first 6 tracks and start off listening to track 7 which is where it starts to get darker and the composer seems to be in her element. Overall I found this mainly skippable, some game type music and under average pop, but worth a listen for the following tracks by Kajiura Yuki.
Notable tracks
7: Kaimasu Meirei. Mp3
This is the track that made me stop and listen, it's dark and dramatic! Awesome strings, flutes and a little triangle, I love this! Favourite track.
8. Bijo to Yajuu.
Love the percussion in this, again dark and builds up well, then kind of dies.
11. Chigiri ~ Reverie Metherlence
Acoustic Guitar, then a minute and a half in beautiful choral (Noir the anime feel).
13. Koushu Kairiudo
Echoey then elctric guitars and jazzy flute.
15. Kasukanari Aogi no Sai
Another choral number – again like Noir.
22. Sakki…!!
Pounding, heartbeat, within fear.
23. Sensen Fukoku
Powerful brass, cymbals mysterious like Batman music.
26. Kimi wo Tsurete Iku…
Melancholic.