Thanks for the quick release Triad!

Storyline (Spoilers)
Akagi isn't going to be intimidated by some petty minded thugs, besides which, he's got some super cool fighting skills! He's invited to play against the fake Akagi in front of the Kawada boss, but first f. Akagi must defeat his current opponent Urabe, the rep player for the Fujisawa group.
After an initial inspection it would seem that f. Akagi is winning, but the real Akagi says Urabe is losing on purpose and will either raise his game or do something different in the last round. Indeed, Urabe raises his game from 500,000 yen to 1,000,000 yen, saying each round until they win has the 'same conditions'. F. Akagi interprets this as 1,000,000 yen each round – however, Urabe means to double the betting each round!
Urabe plays into one of the other player's hand to prevent f. Akagi from winning. It reaches the 16,000,000 stage (!) yet f. Akagi manages to get into a position where he only needs 1,000 points to win…but he falls apart, he lacks something vital that a gambler requires.
Can the real Akagi take over the game and beat Urabe? Find out next episode! (I can't believe I'm blogging this, I should watch the next episode right now, but the suspense feels great!)
Notes
Head Bump: The person to the right of the one dealing the winning tiles gets priority when declaring a Ron.
Furi Ten: F. Akagi can only win by drawing those tiles himself because he has dealt his winning tiles! (baka!)
Characters
Akagi (real): This show always gives me what I wish for! Akagi kicks ass.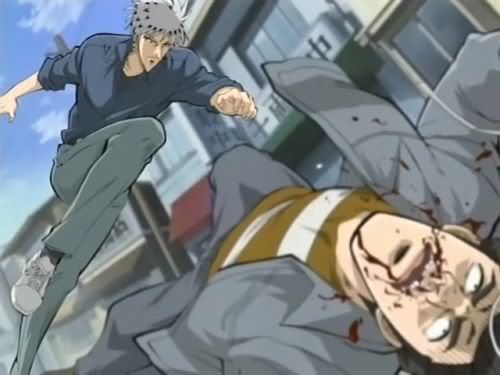 He's so laidback, confident Usabe is up to something…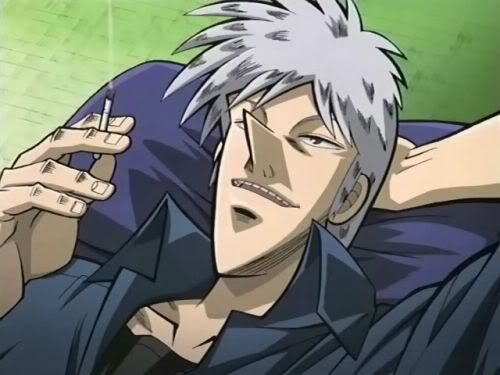 Akagi (fake): the scattering of tiles emphasize his state of mind.
Urabe: The thing I love most about this artwork, is the ability to express extreme personality and emotion within the faces. Anyone would thing this guy has an evil cunning plan, and those teeth! Scarey!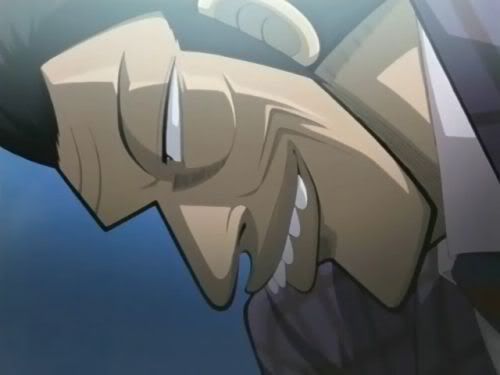 Fujisawa: is the boss.
Overall, I really enjoyed this episode. I sat there predicting cool cheating moves and was pleasantly surprised by a new type of gameplay. I love the music in every episode, it creates the same intense feeling – the feeling that something exciting is about to happen in the game play any second, it keeps me hooked!