Though the event sounded like a wet t-shirt contest – billed as having young girls, skimpy clothing, and water – the Captain, perhaps sadly, discovered another world unto its own. Join him this week as he takes a peek at Akihabara's latest fad through a tradition of the past.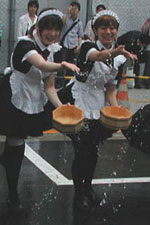 Frilly black dresses with curvy tails. White aprons with matching headpieces. Wooden buckets. Hot pavement. Lots of free-flowing water.
An unlikely combination for sure, but that was the recipe that blended culture past and present in a promotional event at Tokyo's electronic paradise of Akihabara last Sunday.
To the uproarious approval of a gathering of five hundred mostly young male otaku, or extreme fanatic, female employees of Akihabara's now trendy maid cafes (a generic expression given to a variety of shops staffed by pretty young girls outfitted in alluring costumes) assisted in the performance of uchimizu – the summer ritual of tossing water on to hot pavement in an effort to create a cooling sensation.
Though the name may imply otherwise, a maid café is not a place to find a woman busily working a vacuum, nor even an ambiguous shroud for yet another type of Japanese sex establishment. With menus, written in deliberately unique Japanese, offering everything from "little devil" cocktails (600 yen) to full-body massages (4,000 yen for thirty minutes), these establishments allow customers to partake in a faux master-and-servant relationship with a young lady sporting a Victorian outfit or other seductive wear, perhaps a uniform based on a popular manga, anime, or video game. Conversations often include such honorific titles as "my lord" or "my lady."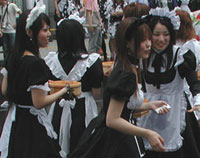 Akihabara is hardly known as a place for person-to-person contact. Rather, it is the Tokyo district famous for shops peddling the latest in consumer electronics and gadgetry. The maid café then is a chance for a little interactive fantasy.
Uchimizu, however, is not a trend. The custom dates back hundreds of years. Doorways and garden entrances often received a dousing of water on hot summer days in hopes of taking advantage of the however brief effect of evaporative cooling. (For skeptics, the official uchimizu Web page claims that the execution of uchimizu can drop the temperature nearly two degrees centigrade.)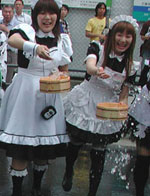 For the one-and-a-half-hour event, held in the open plaza in front of JR Akihabara Station and promoted by colorful posters featuring three female animation characters (one toting a wooden bucket with a handle), small groups of a dozen or so otaku took turns moving out onto a designated asphalt area where they emptied buckets of water (and their hearts) as a single row of smiling attendant ladies dutifully did the same nearby. Small photo opportunities and brief chat sessions were possible before and after the ceremonial tosses.
Female music trios opened and closed the festivities with songs sung over pre-recorded dance music. With some wearing thick-soled basketball shoes, jeans, and t-shirts, teams of otaku spun, threw their arms in the air, and sang along with the lyrics of the head-tilting threesomes.
"This is the strange otaku world," said one male observer standing in the back of the crowd.
Strange, maybe. But cool.